The Number One issue that we see for returning fairs having trouble with exhibitors being able to make entries is that they forgot to change the Entry Registration Dates to be the current year.
Each year, managers have the option to copy the entry settings from the previous year. Most fairs do that, because setting them up from scratch every year would be a waste of time, especially if they remain primarily the same from year to year.
HOWEVER, FairEntry is very literal, so when it copies Entry Settings, it copies it exactly. Your registration dates would be last year's dates, preventing entry this year.
To update those, start on the Hierarchy menu, and select the Fair. Then on the Entry Settings tab, the first options are Registration Opens and Registration Closes. Change BOTH of those to be the current year.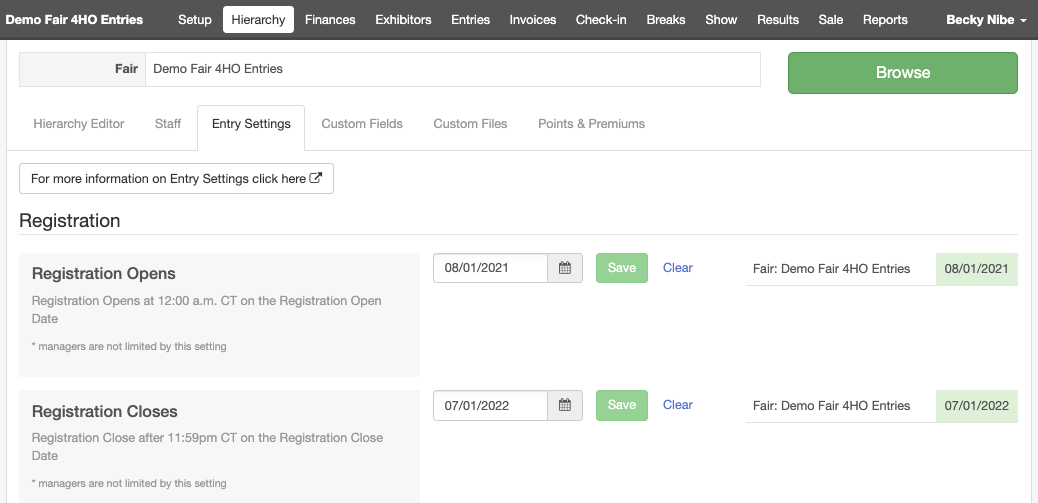 Your fair may have entry registration dates set differently for some departments. To ensure that you have changed ALL dates, go to the Reports menu>Standard Reports>Hierarchy>Entered Hierarchy Settings and click the Excel button.
In columns H and I you will see any other dates that were entered and need to be changed by selecting the appropriate portion of the hierarchy.
If your entry dates are right, but your exhibitors still cannot make entry, check out the other two most common reasons for that: Linking Animal Types to Divisions and Selecting the Primary Fair.
See More:
Copy Fair (for Returning Fairs)